Same Day Jaipur – Ajmer Tour
Tour Duration : 01 Day
Tour Destination : Ajmer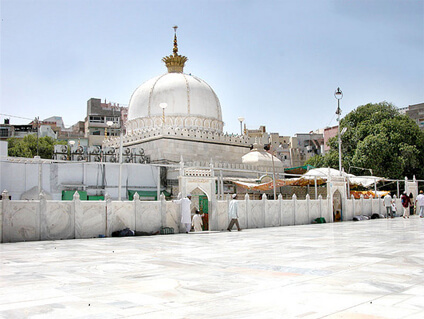 Welcome you in the city where most of the hindu pilgrims visits to take holy bath that is in the Pushkar Lake. Enveloped in the desolate hillside, Ajmer has endorsed an interesting past and is witnessing a lively present too. Founded by Raja Ajay Pal Chauhan in the 7th Century A.D., Ajmer city ultimately became center to many dynasties that left behind endurable antiques of their culture and tradition on its history.
A surprising fusion of Hinduism and Islam, Ajmer is an alluring concoction of contrasting cultures and traditions. The base for travelers to Pushkar, Ajmer encourages not only of pilgrimage centers but also of scenic temples, mausoleum, lake of Pushkar and Anasagar Lake.
Tour Features:
The same day Jaipur Ajmer tour by car will let you feel the freshness and beauty of the Pushkar Lake that will first lead you to the Pushkar Brahma Temple.
The visit to the ajmer Sharif Dargah.
Short yet entertaining same day Jaipur Ajmer trip with great amiability.
Pick and drop Facility.
Tour Guide
Tour Itinerary:
Day 01 : Jaipur - Ajmer
In the morning after pickup from your desired location that can be railway station or airport of Jaipur, you will be driven towards the city of one of the most sanctified shrines in the country i.e Ajmer.
Upon reach to Ajmer head start to the Dargah-e-sharif then move towards the beautiful Anasagar lake.
Post lunch you will be driven to Pushkar city that is renowned for the Brahma Temple and the puskar lake where most hindus take holy dip.
We leave Ajmer & drive back to Jaipur. Arrive in late evening.
USER REVIEWS
RELATED TOURS
YOUR EXPERIENCE: