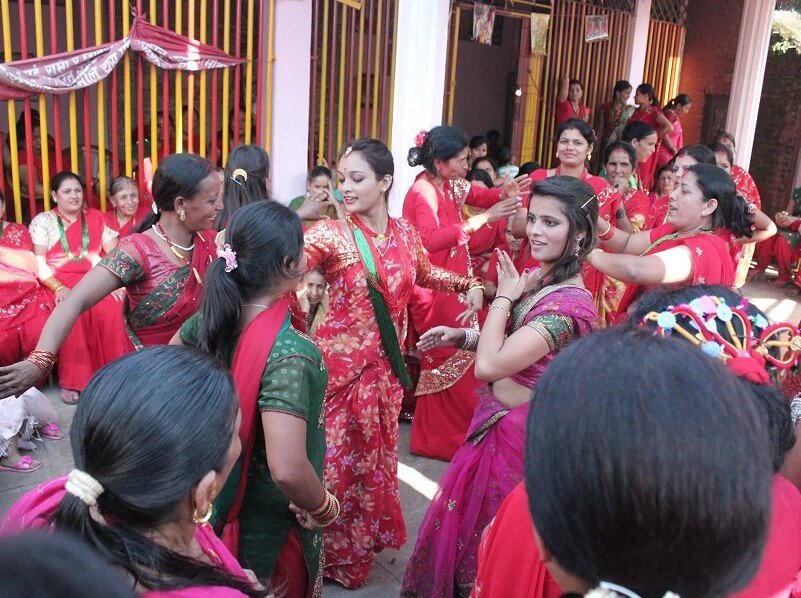 What a glee moment to be a part of deep rooted traditional Teej festival of Rajasthan! Teej greet the monsoon and is observed in the Hindu month of Shravan. The monsoon rains fall on the parched land and the pleasurable scent of the wet soil rises into the air.
There are three Teej festivals in a year. These are Kajali Teej, Hariyali teej and Hartalika Teej. Different regions of Rajasthan have their own preferences. Fasting is done in Kajali Teej. Indian women enjoy special treat then. While married women religiously follow tradition in wake of wellbeing of their spouse, unmarried girls observe Teej to get good partner.
The fiesta of swings, music, dance and sweet dishes animate the entire day. It's a day of receiving gifts and indulging in joy and happiness.
Main customs and rituals
During Teej, Goddess Parvati is worshipped, this festivals is dedicated, in many parts of India and Nepal. Sinjara is unique to Teej in Rajasthan which is celebrated the day previous to it. Women draw beautiful mehandi patterns on their palms and variety of delicacies are prepared. Lot of activities and rituals are carried out at the time of Teej Puja. Even the non-natives enjoy from Sinjara to puja method.
Women dressed in colorful clothes with henna-colored hands and feet are an amazing sight.
Swings are hung from trees and elegantly dressed women sing and swing to celebrate the advent of the monsoon. Women dance, sing, tell stories and make merry with friends.
The traditional ghevar sweet is also related with the festival. Jaipur is famous for it.
'Sattu', the big size sweet balls are mandatory on Kajli Teej as women break her day long fast with sattu after worshipping the moon.
You should not miss Teej Mata ki sawari when on Jaipur tour. Thousands of devotees throng the procession which is conceded out for two consecutive days. Many of Teej songs are sung when the procession moves further. Folk artists and musician enchant the crowd with their grand performance. Some people even dress up like Gods and Goddesses and play a variety of musical instruments.
If you are planning for Rajasthan tour, do consider tour packages of Rajasthan with Jaipur. It gives a true insight of State's religious culture.